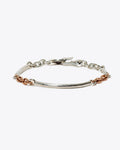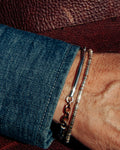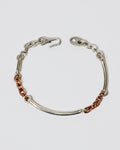 18K Rose Gold - Terra Bracelet
M. Cohen

The Terra Bracelet is made in 925 Sterling Silver and 18KT Rose Gold bar links and chains. The polished finish is specialized for the 22 Pcs collection. This piece will be a subtle addition to your stack. Available in two sizes, M (7.25") and L (7.75").

M. Cohen's style is based on the concept of skillful layering. Each piece is designed to be an honest expression of its wearer, from bracelets to necklaces and everything in between. The collection is entirely produced in Los Angeles and combines raw and precious elements such as gold, silver, brass, leather, pearls, beads, and gemstones.