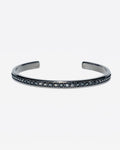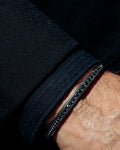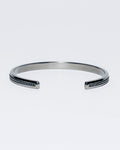 Suneera Medium Cuff - Black Rhodium Finish Sterling Silver w/Black Diamonds 1.5 cts
Suneera

Suneera's medium cuff bracelet is a stunning piece of jewelry crafted from black rhodium finish sterling silver and adorned with black diamonds weighing 1.5 carats. Measuring 5mm in width and 60mm in diameter, this piece is perfect for making a statement and adding a touch of edgy sophistication to any outfit.

Suneera is a self-taught jewelry designer who started designing for private labels in 2001 before launching her namesake collection in 2014. Her jewelry is inspired by her rich heritage and family's tradition of passing down heirlooms, which she transforms with her personal style. Her work is known for its exquisite craftsmanship, timelessness, and meant to last forever. Today, her jewelry is showcased in high-end boutiques and galleries across the country, and she has also created a sterling silver daughter line called .925SUNEERA. Despite never receiving formal training, Suneera's passion for jewelry design stems from her childhood, where she saw her mother and aunt pair their saris with spectacular jewels, and her love for fashion and jewelry remains an eternal inspiration for her work.