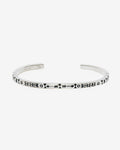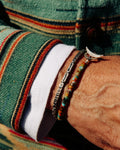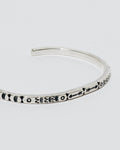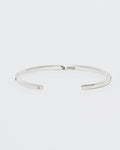 Men's Extra Thin Square Bracelet
Larry Smith

Made in Japan, this bracelet is made of solid sterling silver, and one size fits most. Created in collaboration and with inspiration from Native American artists, Smith has used this technique for many years. The cuff is made with a traditional stamping technique that has become a staple of the work of Larry Smith. So popular that even Man of the World founder Alan Maleh wears this bracelet with his daily stack.  

Yoshifumi Hayashida of Silversmith launched the Larry Smith brand in 2009. Inspired by the jewelry that Native Americans took the time and effort to make in the 1880s and 1940s, each piece respects their culture, spirit, and manufacturing attitude. Hayashida also puts Japanese techniques and sensibilities into his work. He uses motifs from the natural world or natural stones such as turquoise to create unique jewelry about comfort. Its sophisticated design and delicate stamp work is characteristic of the Larry Smith design.