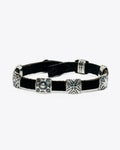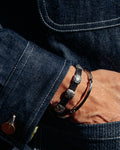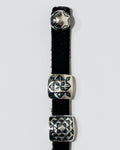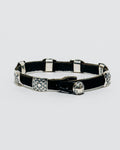 Concho Bracelet
Peyote Bird

Made by New Mexico-born artist Rick Montaño this solid sterling silver stamped concho is created on deerskin leather. Rick's stamps are handmade from cold steel, exemplifying his unique style of traditional metal stamp work. His precise spacing of the stamps was specialized for the 22 Pcs collection to present a more modern twist to a traditional piece. Handmade in New Mexico, this bracelet is available in two sizes, M (7.25") and L (8").

Peyote Bird Designs specializes in handcrafted artisan jewelry from and inspired by the areas in the American Southwest. Offering a wide range of vintage and contemporary jewelry styles, we strike a delicate balance between old and new in the designs we carry and create. 
Peyote Bird Designs was founded in 1974 by Mark Alexander, who continues to build upon his original legacy of collecting, creating, and cultivating beautifully handcrafted products from around the world.