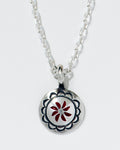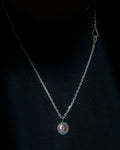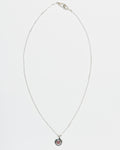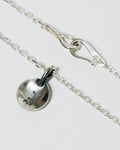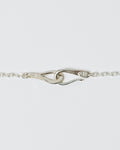 Chain and Windmill Pendant
Larry Smith

Sterling silver pendant is stamped with hand-painted red detail, inspired by a 1930 silver concho with traditional stamp work. All 1930-era stamps are designed with a deep dimple so that the designer can add the red color paint. They are made exclusively for the 22 Pcs collection. The chain length is just under 24". The necklace is made in Japan.

Yoshifumi Hayashida of Silversmith launched the Larry Smith brand in 2009. Inspired by the jewelry that Native Americans took the time and effort to make in the 1880s and 1940s, each piece respects their culture, spirit, and manufacturing attitude. Hayashida also puts Japanese techniques and sensibilities into his work. He uses motifs from the natural world or natural stones such as turquoise to create unique jewelry about comfort. Its sophisticated design and delicate stamp work is characteristic of the Larry Smith design.