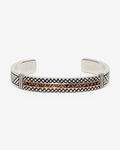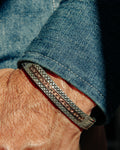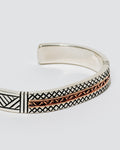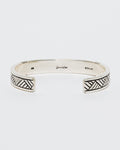 Sterling Silver Basket Weave Cuff with 18K Rose Gold Accent
Peyote Bird

The Basket Weave Cuff was made by Native Artist Jennifer Curtis, daughter of famed silversmith Thomas Curtis. The artist created a robust solid sterling silver stamped cuff with 18K rose gold inlay made with a handmade steel die stamp. Jennifer was raised in a remote area of the Navajo reservation in Arizona, and many of her creations are handmade in New Mexico. Her style has developed over the years, inspired by the patterns in her late grandmother's weavings and the lessons learned in her father's workshop. One size fits most. 

Peyote Bird Designs specializes in handcrafted artisan jewelry from and inspired by the areas in the American Southwest. Offering a wide range of vintage and contemporary jewelry styles, we strike a delicate balance between old and new in the designs we carry and create. 
Peyote Bird Designs was founded in 1974 by Mark Alexander, who continues to build upon his original legacy of collecting, creating, and cultivating beautifully handcrafted products from around the world.