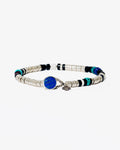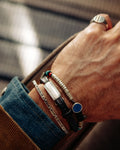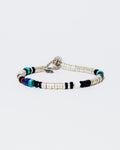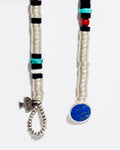 Atalaya Bracelet with Heishi beads
Peyote Bird

The Atalaya bracelet is made of Sterling silver, black jet, turquoise, and lapis heishi beads mixed with white bone, bamboo coral, and small Thai silver bead accents. Each design includes a beautiful Sterling silver lapis inlay button closure. Heishe or heishi (pronounced "hee shee") are tiny disc-or tube-shaped beads made of organic shells or ground and polished stones. They come from the Kewa Pueblo people (formerly Santo Domingo Pueblo) of New Mexico before these people find and use the metals for jewelry making. 
The literal meaning of heishi is "shell" and specifically refers to pieces of the shell that have been drilled and ground into beads and then strung into necklaces. These sterling silver heishi beads are modeled on the tradition that sets Peyote Bird Designs apart from other brands. The evidence of the strong influence from the American southwest with a contemporary take is evident to the keen eye. Handmade in New Mexico by local artists, it is available in two sizes, M (7.25") and L (8").


Peyote Bird Designs specializes in handcrafted artisan jewelry from and inspired by the areas in the American Southwest. Offering a wide range of vintage and contemporary jewelry styles, we strike a delicate balance between old and new in the designs we carry and create. 
Peyote Bird Designs was founded in 1974 by Mark Alexander, who continues to build upon his original legacy of collecting, creating, and cultivating beautifully handcrafted products from around the world.