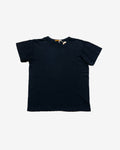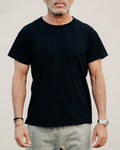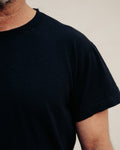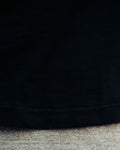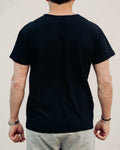 Mister Freedom Stanley T-Shirt: 2-pack
Mister Freedom

The Mister Freedom® STANLEY T-Shirts are expertly crafted in California, USA, using premium tubular cotton jersey sourced domestically. These T-Shirts are made from an exclusive light-weight fabric with a slubby texture, reminiscent of classic vintage 1960s-70s tourist/rock Ts. The looser knit construction of the fabric offers high mechanical stretch, resulting in a relaxed silhouette with excellent drape. Whether you prefer a laid-back casual look or seek comfort in a light-weight T-shirt, the STANLEY is designed to cater to different body types and sizes while exuding an old school casual vibe.
 Original Mister Freedom® T-shape body pattern, inspired by vintage US military undershirts and old school commercial sportswear T-Shirts

Exclusive 100% cotton premium tubular jersey (no side seams), slubby texture, light-weight, high mechanical stretch, milled in USA

Relaxed silhouette

Vintage style ¼ sleeves

Cover-stitch self-fabric neck band

Pre-shrunk

Made in USA
Mister Freedom is a vintage-inspired clothing brand founded in 2003 by Christophe Loiron. Known for its meticulous attention to detail and historical accuracy, the brand creates garments that pay homage to classic American workwear and military clothing. With a focus on high-quality materials and authentic manufacturing techniques, Mister Freedom has gained a dedicated following for its timeless designs. From denim jeans and jackets to military-inspired outerwear, each piece tells a story and embodies a sense of nostalgia while incorporating modern elements.