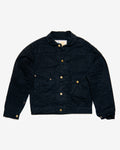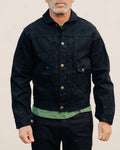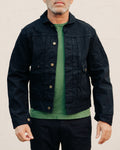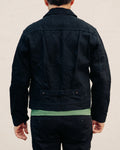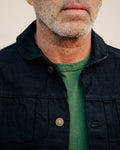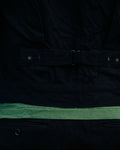 Mister Freedom Ranch Blouse in Black Sulfur-dyed Denim (Rinsed)
Mister Freedom

The original Mister Freedom Ranch Blouse pays tribute to the iconic denim jacket styles that have been popular among Americans for over a century. This particular design draws inspiration from the 1930s to 1940s era, incorporating traditional features like a pleated front and a buckle back. While aiming for a vintage boxy fit, the brand has managed to maintain a trim silhouette. 100% cotton, milled in Japan on traditional shuttle looms.
Early round-type collar, A-1 style

100% cotton

Original lower chest double slanted pockets with "M" branding stitching, single pocket flap

Brass cast MF® branded tack buttons.

Buckle back, concealed selvedge strap, adjustable, riveted

Copper rivet reinforced, unmarked, leather washer

Made in USA
Mister Freedom is a vintage-inspired clothing brand founded in 2003 by Christophe Loiron. Known for its meticulous attention to detail and historical accuracy, the brand creates garments that pay homage to classic American workwear and military clothing. With a focus on high-quality materials and authentic manufacturing techniques, Mister Freedom has gained a dedicated following for its timeless designs. From denim jeans and jackets to military-inspired outerwear, each piece tells a story and embodies a sense of nostalgia while incorporating modern elements.